Anderson Student Center for Public Trust
Anderson Welcomes New SCPT Chapter Officers
Chapter Officers for 2022-2023 are:
Krystal Rose - President
David Jenkins - Executive Vice President
Elaina Gomez-Villeda - Treasurer
Alice Main- Development Officer
SCPT Contacts
David Jenkins
Executive Vice President
MACCT
Elaina Gomez-Villeda
Treasurer
MACCT
Alice Main
Development Officer
MBA Strategic Management and Policy
Kai Nakamura
Social Media Development Officer
BBA Marketing
Activities for Upcoming Year
Chapter Meetings
Community Service Activity
Participate in the Ethics in Action Video Competition
Present the Campus Being a Difference Award
Attend the StudentCPT Leadership Conference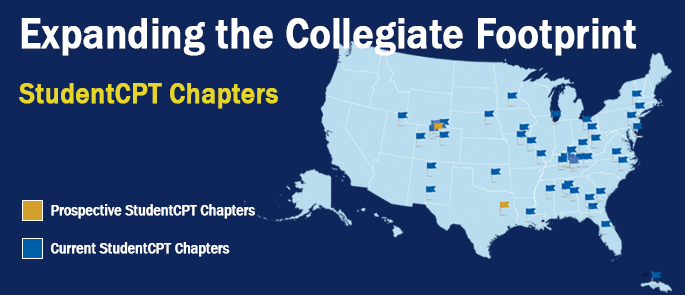 Image source: Student Center for the Public Trust (https://www.studentcpt.org/chapter-directory/)
National SCPT Mission
To promote ethical thinking in the developing character and conscience of students.
National SCPT Vision
To be the largest network of ethical leaders on college campuses.
National Student Code of Ethics
Ethical Leadership
Student members set the standard for ethical leadership, ethical conduct and model ethical behavior. Student members act ethically in every personal interaction.
Accountability
Student members accept responsibility and accountability for their individual decisions, actions and attitudes. Student members engage in activities that enhance the credibility and value of the SCPT and themselves.
Integrity
Student members think and act with honesty and integrity, and apply high standards of ethical behavior to their daily activities.
Trust
Student members maintain a high level of trust with all others and build trust through fairness, honesty, accountability, integrity and transparency. Student members should not engage in behaviors or activities that create potential, apparent or actual conflicts for the SCPT, NASBA CPT or themselves.
History
The CPT launched its first StudentCPT chapter at Lipscomb University, in 2009. Today, there are 29 chapters in 17 states. More than 2,000 students have participated in StudentCPT activities over the past year. During the 2014-2015 school year, students hosted over 80 chapter meetings and nearly 20 different community service activities. There are thousands of organizations for college students. However, the NASBA Student Center for the Public Trust (StudentCPT) has a unique value proposition. If students invest their time and energy into enhancing their ethical decision-making skills now, they will get immeasurable returns throughout their careers.