Anderson Student Center for Public Trust
Anderson student entries chosen as runner-up in both categories of the annual Ethics in Action Video Competition. Our own Ady Ruiz-Olivas captured second place in both categories of the annual competition. From 40 finalists, Ady had the unique (to our knowledge first-ever) accomplishment of placing in both the commercial and short film categories.
Short Film Category, Runner Up
Commercial Category, Runner Up
Congratulations to Ady and all our Anderson entrants. Great work!
Anderson SCPT Chapter Officers Election
In March, our Chapter voted for a new slate of officers to take us into the Fall 2020 semester and beyond.
Elected as our new President was Benjamin Axelman.
Other Chapter Officers for Fall 2020 are:
Amanda Perea - Executive Vice President
Jeremiah Morgan - VP of Recruitment and Membership
Ann Eckert - VP of Events
Daniel Thompson - VP of Digital and Social Media
We welcome our new officers and extend our thanks and sincere appreciation for our graduating officers, especially Grace Cornelius who served as our Chapter President.
Anderson's SCPT Chapter Awarded Coveted Golden Star Status for 2020-2021
We're proud to announce that our Chapter has achieved, for the fourth consecutive year, NASBA's coveted Golden Star Chapter Status. NASBA has 46 individual chapters spread over 25 different states. Only 12 have achieved Golden Star Status.
Our efforts included: 2 community service projects for the Road Runner Food Bank, 7 finalist submissions to the annual Ethics in Action Video Competition, awarding the Annual Campus Making a Difference Awards, building membership to over 150 active members, Officer participation in the Annual Ethics in America Conference and the CPT Annual Conference, four speaker presentations, and the tireless work of our Officers and Members in growing and maintaining one of the stronger Chapters in the U.S.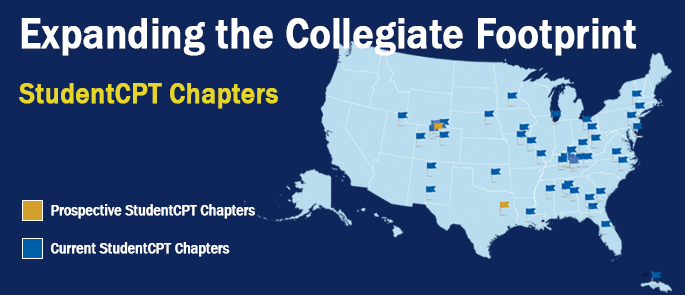 Image source: Student Center for the Public Trust (https://www.studentcpt.org/chapter-directory/)
Upcoming Events
Spring 2020 events will be announced soon! Check back later for our slate of guest speakers and competitions!
National SCPT Mission
To promote ethical thinking in the developing character and conscience of students.
National SCPT Vision
To be the largest network of ethical leaders on college campuses.
National Student Code of Ethics
Ethical Leadership
Student members set the standard for ethical leadership, ethical conduct and model ethical behavior. Student members act ethically in every personal interaction.
Accountability
Student members accept responsibility and accountability for their individual decisions, actions and attitudes. Student members engage in activities that enhance the credibility and value of the SCPT and themselves.
Integrity
Student members think and act with honesty and integrity, and apply high standards of ethical behavior to their daily activities.
Trust
Student members maintain a high level of trust with all others and build trust through fairness, honesty, accountability, integrity and transparency. Student members should not engage in behaviors or activities that create potential, apparent or actual conflicts for the SCPT, NASBA CPT or themselves.
History
The CPT launched its first StudentCPT chapter at Lipscomb University, in 2009. Today, there are 29 chapters in 17 states. More than 2,000 students have participated in StudentCPT activities over the past year. During the 2014-2015 school year, students hosted over 80 chapter meetings and nearly 20 different community service activities. There are thousands of organizations for college students. However, the NASBA Student Center for the Public Trust (StudentCPT) has a unique value proposition. If students invest their time and energy into enhancing their ethical decision-making skills now, they will get immeasurable returns throughout their careers.
Daniels Fund
The University of New Mexico Anderson School of Management Daniels Fund Ethics Initiative started in January 2010 as a funded five-year program. The Anderson School serves as a resource for business ethics education across other colleges on campus and all public institutions of higher learning in New Mexico. The Daniels fund is one of SCPT''s primary sponsors.
The Daniels Fund initiative will be used to develop business ethics teaching materials, allow for the development and integration of business ethics education throughout UNM, provide workshops and programs on teaching business ethics, and create competitions and recognition events for principle-based ethical leadership and practice. Learn more about the Daniels Fund at Anderson.